"No one likes working on the 2-inch wide screen", says Wayland Bruns, CTO of DejaOffice. "You want to open your phone, and get your task done, with a minimum of scrolling and dapping. The powerful widgets in DejaOffice allow you to get full app functionality on your home screen. Whether you interact more with contacts, or with tasks or with notes, you can arrange our live widgets to suite your work style."
DejaOffice CRM with Sync for Outlook is free from the Google Play Store. To synchronize it uses CompanionLink which is a PC App for Windows and macOS. CompanionLink can synchronize DejaOffice data with Outlook, Act!, Goldmine, IBM Notes, and other leading desktop applications.

One time-saving feature of DejaOffice is Templates. The template manager allows you to automate different appointment types, and task types, so that most fields are pre-set. For instance, you can make an appointment template for staff appointments, and a separate one for client appointments. Each template can fill in location, category, duration and other fields. Then, to make a new entry, use the template to automate the fields for that appointment type.

Persistent reminders are another key feature of DejaOffice. How many times have you left your phone on the desk, missed an alarm, and not realized it until an hour later. With DejaOffice, if you turn Persistent Alarms on, then your phone will gently remind you again, every minute, until you dismiss the alarm. This system puts an end to missed appointments and tasks.

DejaOffice is also available for iPhone. Home screen widgets are not available on iOS in the same way as Android, but most other DejaOffice features are the same. PC Sync is provided by CompanionLink. CompanionLink for Outlook is $49.95 and can synchronize to DejaOffice using USB, Wi-Fi, Bluetooth and DejaCloud Sync. CompanionLink also provides sync for Palm Desktop, IBM Notes, Act! and other PC Contact and Calendar Apps.. For more information see https://www.dejaoffice.com.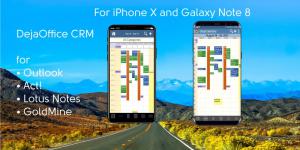 PC Style CRM for your Android and iOS Phone
DejaOffice CRM - Contacts Widget in Action